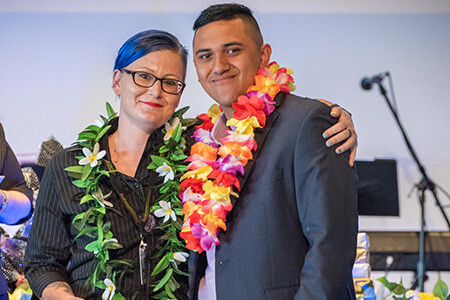 Tupu Aotearoa
Supporting Pasifika
Meet our WAM graduate: Balwinder
Balwinder Singh is not your average teenager. The highly-motivated 18 year old completed WAM, and now he is on the road to becoming a successful mechanic – and even more importantly – a great dad.
Why did you enrol in WAM?
When I was 17, I found out that I was going to be a dad. I knew I didn't have the skills or knowledge I needed, so when I heard about WAM I signed up. There were some ups and downs, but I am so pleased I stuck with it because I wanted to have something to show for 2018.
What were the highlights of the course?
This course has made me more mature. I've got clearer options now instead of wandering around just guessing. The programme taught me a lot – practical skills, budgeting, first aid, I made a toy for my baby, and they even helped me to get my licence. WAM opened up opportunities for me to go onto further study and now I feel excited about my future.
You have just graduated from WAM. Now what?
I've always been interested in becoming a mechanic, so I have signed up to study Level 3 welding at the New Zealand Welding School. Welding is a great skill for mechanics to have. After completing that I'm planning to begin my automotive studies at MIT. I know there will still be a few bumps in the road, but now I've got a clear idea of where I am heading.