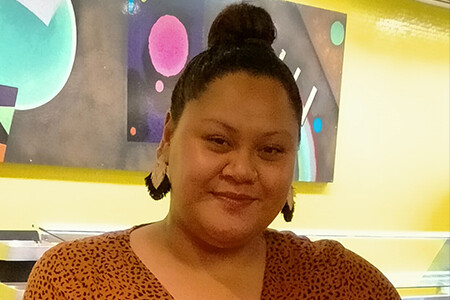 Tupu Aotearoa
Supporting Pasifika
Solomon Group client gains employment
Laupule Moors was referred to Solomon Group to support her journey into employment.
Laupule and her partner have 2 children (twins) and are financially dependent on Work and Income payments. Our employment navigator met with Laupule and she shared that both her and her partner have been frustrated as they have been unable to find employment for some time. When they get paid from WINZ they are left little over $30 for the week once payments have gone out. Laupule said she would travel anywhere for work. I could feel her desperation.
In speaking with Laupule we found that a role in security was an exciting prospect knowing it will give her several different career pathways. We explained she had to do a short course to gain her licence and then we will set up an interview date with the employer. She was booked in to do her 2 day Security licence and with her determination she passed. Laupule was then brought in to meet employer FIRST SECURITY and was interviewed straight after their presentation.
Shortly after we got the brilliant news that she was offered employment with First Security. Laupule is elated to have achieved this outcome and remains thankful as she is able to support her family again. She has praised our services as she felt she has been guided and supported all the way through to her job.
We wish Laupule all the best in her future endeavors as we continue to support her and her family.
Are you looking for employment. Contact our team, we would love to support you.