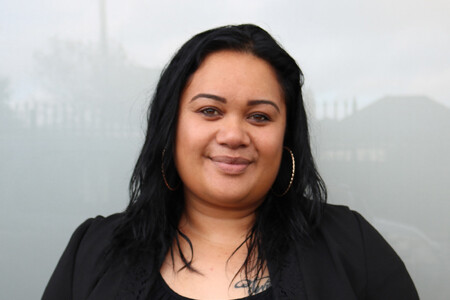 Tupu Aotearoa
Supporting Pasifika
Meet our Contact Centre Graduate: Margaret
Solo mother of four Margaret says the 12-week course did much more than prepare her for a contact centre job. It transformed her life, and the lives of everyone she studied with.
What impact did the course have on you?
I left school at 15 without any qualifications and was pregnant at 16. Before this course I was going through a tough time and was going down a path I didn't want to go down anymore. The person who arrived at this course on the first day was different to the person who is walking out of the door now. I am completely different, I've got goals. I'm not just doing this for my kids, I'm doing it for myself too. When I started at Solomon Group I had no confidence, but now even the way I dress has changed.
The course didn't just change my life though – it changed everyone's. If you took a photo of our class at the beginning and another one at the end, you would have two completely different photos with two different sets of people.
What were some of the highlights?
I loved being on campus. I discovered that learning as an adult is cool and it's ok to ask questions and not know stuff. When I came to this course I didn't even have basic computer skills, and I was really slow at the IT stuff, but my tutor pushed me forward with it. Without her doing that I wouldn't have a job now. I felt awkward at first because I was a young mum and didn't finish school, but everyone was so supportive and helped each other. I have made friends on this course who will be friends for life.
What does your family think about your success? My kids love that I have done this. This course is the first thing I have finished in my life, and to have a job with Auckland Council at the end of it is just amazing. The Solomon Group and Auckland Council are working together to find and train people for their contact centre, and I feel lucky to be part of that first group.
Tell us about your new job.
To be a successful Contact Centre person you need to be good at communication, team work and multi-tasking. As a mum, I'm good at all that, but it's different in the workplace when you are juggling two screens and a phone. It can get pretty intense. As a CSR for the Auckland Council, I am the voice of the company. That's a lot of pressure, but it's pretty cool as well. By working here, I will gain so much knowledge about Auckland, and then I will get to share that knowledge with people every day. One little thing I say might pick someone up and make a difference to their life. I think that would be really cool.