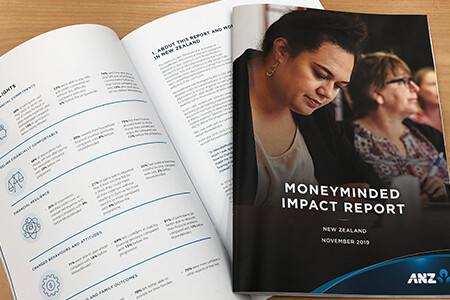 Tupu Aotearoa
Supporting Pasifika
ANZ MoneyMinded Partnership
Solomon Group are proud to be partnered with ANZ in delivering MoneyMinded, a financial literacy programme for adults, in New Zealand since 2012.
The number of students who used payday lenders halved after completing a financial education course, according to ANZ's latest MoneyMinded impact report.
The 2019 MoneyMinded report measured the programme's impact on participants' financial wellbeing. The report revealed the programme has had a significant impact, with the average participant's financial wellbeing score improving from 28/100 before MoneyMinded (struggling) to 65/100 (doing OK) six months after completing the course.
ANZ Acting Managing Director Retail and Business Banking Ben Kelleher said the report reinforced the power of the programme and the impact of financial education.
"A key factor in MoneyMinded's success is partnering with organisations such as the Solomon Group who have long-term relationships with students," Mr Kelleher said.
"For us, MoneyMinded is as much about helping build thriving communities as it is about helping people manage their money."
Click here find out more about the programme and view the full report.