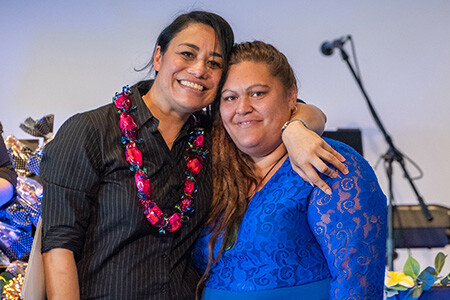 Tupu Aotearoa
Supporting Pasifika
Meet our WAM Graduate: Sharntelle
After a childhood and career fully immersed in Maoridom, single mother of three Sharntelle Hall was ready to broaden her horizons. Her Solomon Group studies boosted her English and Maths and opened her eyes to a diverse line up of career options. Now the world is her oyster and she couldn't be happier.
Why did you decide to enrol on WAM?
I was a stay at home mum and I was bored. I did a lot of stuff – but none of it was for myself. After finishing school, I worked in a Kohanga for ten years before having my own family. Māori is my first language and I wanted to educate myself in the English side of things, as reading and writing in English were a real struggle for me.
Was the programme valuable?
WAM really helped me with English and Maths. We did that every day and I really noticed the improvement. Enrolling with the Solomon Group was the best decision I've ever made. It has quite literally changed my life. Before coming here, I was in the Māori zone, but WAM opened me up to the rest of the world and broadened my horizons. Before, my path was only heading in one direction, but now so many other opportunities have opened up for me.
After completing WAM you went on to gain your Infrastructure Level 2 qualification with us. Tell us about that.
The Trades training was just across the road from where we did WAM, so we built up a bit of a relationship with the people there. I'd been wanting to drive a forklift since working at New World when I was at high school, and the course looked really interesting. During my course I had an interview with Fletchers and they offered me a job that same day. Now I work in the Weigh Bridge Office, weighing trucks coming in and out of the quarry. The hours are part time which fits in really well with my family, and I'm on a good hourly rate. I feel like a different person now. In fact, I started feeling like a different person from the very first day I started WAM. Sitting at desks with all my classmates was such a good feeling – it was good knowing I was actually doing something for myself, and all the encouragement and support from tutors and classmates was invaluable.
What are your plans for the future?
I'd love to work for Solomon Group as a tutor. Solomon Group makes such a difference in the community and for the next generation. We all want to build a bright future for our kids. I'd love to be a part of that journey.