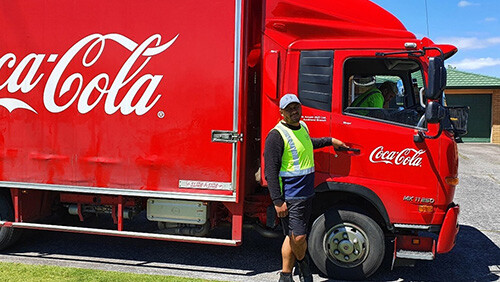 From student, to graduate, to driving for Coca Cola
Truck Driving Night Class Success Story
From student, to graduate to driver for Coca Cola
A New Zealand Citizen, Andy migrated back to New Zealand from Australia with his wife and five children. Always interested in getting into the transport sector with aspirations to becoming an owner-driver.
He attended the Solomon Group Truck Driving Night Classes where he felt comfortable with his tutor's approach. He also made some good friends in the class.
Andy said "This programme gave me the confidence to sit my licence, I didn't pass the first time I went because I was so nervous, but my tutor pushed me to go again, so I'll be forever grateful to him, the other tutors and Solomon Group for this as I passed my licence".
"I now hold my Class 2 full licence and have a job driving for Coca Cola. I am working towards buying my own truck someday. I didn't think any of this was possible but Solomon Group made me believe anything was possible so THANK YOU"